Prenuptial Toasts:
How To Add Pre-Ceremony Toast to Your Wedding Ceremony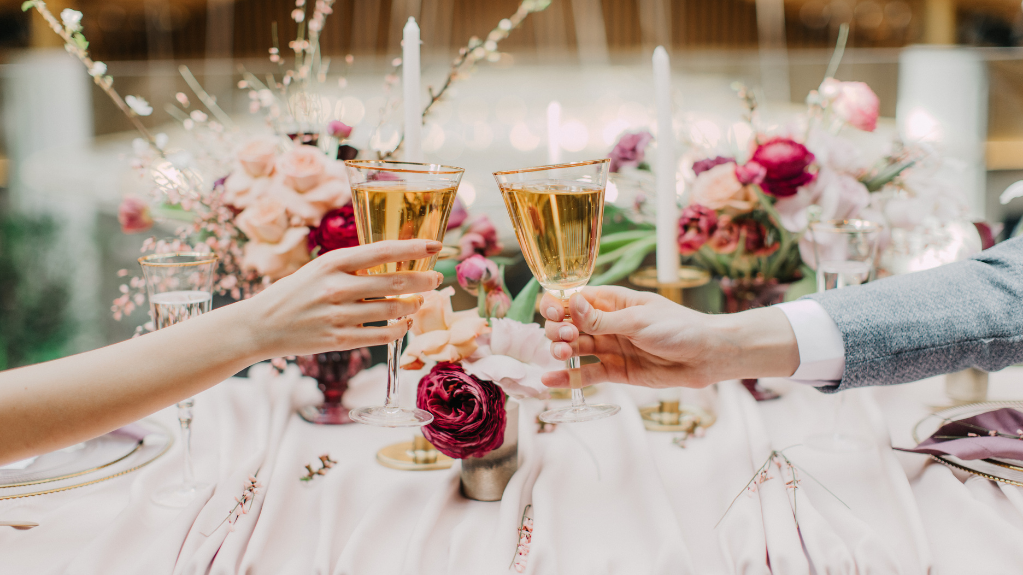 One of the top wedding trends for 2022 is a prenuptial toast. Many weddings start off with the bridesmaids enjoying a glass of champagne or the groomsmen a celebratory shot. A prenuptial wedding toast elevates the pre-ceremony drink to an important part of the wedding event that includes the guests. There are endless options that you can choose to add a pre-ceremony toast to your wedding. As a professional wedding planner, here are some tips on how to add a prenuptial toast to your wedding ceremony.   
When to Toast
The first question for most bridal couples is, when should we have the toast? One option is to have the toast before the wedding ceremony, and before the bridal party walks down the aisle. This can be your best option if your wedding ceremony is at a church or other religious location or a venue that will not permit beverages to be served. 
Another alternative is to share a prenuptial toast during the actual wedding ceremony. You could pass everyone a glass of champagne to toast the couple before the vows are taken.
And, you could also toast the bridal couple after their vows are taken, when they are introduced to their guests as Husband and Wife! Everyone can be served a cocktail to celebrate the married couple. 
Where to Toast
Planning your prenuptial toast in the wedding venue itself is the easiest option. But what if you're having a religious ceremony and taking your vows in a church or a synagogue? While some religious facilities may be understanding and accommodating of a toast, others are not.
Outside of the church, there is usually a spot for guests to congregate, which would be a good spot for a prenuptial toast for the bridal party and the guests to enjoy together before everyone enters the church. 
Distributing The Glasses
One of the more challenging parts of a prenuptial toast is ensuring everyone has a glass to raise – and that the glasses are all safely collected after the toast. If you have the prenuptial toast outside of the venue prior to the ceremony, you can have a table set up with the drinks so everyone can take one for themselves. You can then invite your guests to gather around the bridal couple for a pre-ceremony toast before they enter your venue. 
If the toast is during your ceremony, your ushers or the servers (if your wedding ceremony and reception are at the same venue) could pass the glasses just before the toast. You may want to bring in some extra staff to professionally pass out the glasses and manage the toast logistics. 
If you're making the glasses self-serve, let your guest know to reserve the drinks for your prenuptial toast so people understand the cocktail is not to be enjoyed immediately. 
While champagne glasses are elegant, individual mini- champagne bottles with a straw are a fun option for a more casual ceremony. Be sure to have non-alcoholic options available for guests including teens or children. 
Who Makes the Toast?
Every bridal couple has special people in their life who they couldn't include in the wedding party. This is a good opportunity to invite a special friend or family member to toast the couple. 
KISS the Toast
You may have learned this acronym when you were n school: Keep It Short and Sweet. Less is more when it comes to the prenuptial toast, and there will no doubt be longer toasts during the wedding reception. 
Pre-Wedding Ceremony Toast
Friends and family, we raise our glasses to show our love and support to BRIDE and GROOM as they prepare to become husband and wife.
Friends and family, it is my honor to introduce you to Mr and Mrs BRIDE and GROOM.
Mid-Wedding Ceremony Toast
A prenuptial toast is a fun and unique new tradition to launch your wedding day festivities. Working with an experienced, creative wedding planner will help you to create the perfect addition to your ceremony, and take care of all the details.
Cheers to the bridal couple!