Thanksgiving Table Settings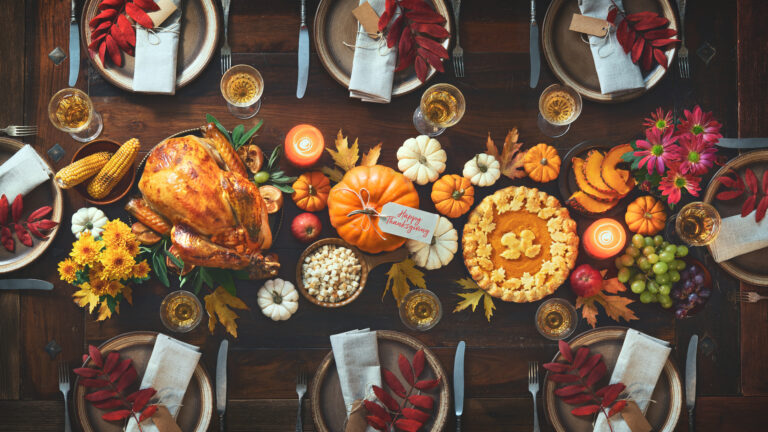 Hosting takes time and planning – and can cause you to become stressed and overwhelmed! If you haven't created your tablescape and Thanksgiving table setting design, here are some last-minute ideas to elevate your table and make your friends and family feel you've been planning for weeks! They'll be impressed by your stunning table design and hosting style.  
1. Say It With Flowers – Update your table centerpiece by showcasing flowers in edible containers. Carved out pumpkins make a stunning container for your floral arrangement and give something for everyone to enjoy. You can mix and match different types of flowers with different fruit and vegetable containers if have a long table or have multiple tables.
2. Mix and Match – While a table set in a single China pattern is traditional and elegant, mixing and matching brings a touch of style and whimsy to the table and can make your event a little less formal and a lot more fun. You could ask each guest to bring their own plate from home so the table reflects your guests' personalities.3. Creative Linens
Instead of a traditional tablecloth, cover your table with a cherished quilt. Use kitchen towels as napkins. 
4. Add a New Layer of Color Thanksgivings traditional fall colors of oranges, rusts, and golds, can really pop with a touch of South Florida color! Sky blues and beachy beiges bring unexpected tropical style to a table decorated with tropical flowers in traditional colors.  
5. Feature the Food  –Make your menu the centerpiece. Think of a traditional Norman Rockwell painting with a large turkey showcased on the Thanksgiving table. Everyone loves a traditional Thanksgiving menu – but do you carve and plate the turkey in the kitchen to hide the mess? Present the fully cooked turkey to your table, and assign someone the honor of carving the bird.  
6. Involve the Littles – On this very family-focused holiday, children can dress up your table. Have the little ones make turkey place cards out of pinecones. Let the littles decorate sugar cookies for the dessert table (using store-bought, ready-to-bake cookie dough).  Have them assemble centerpieces out of acorns, leaves, cornstalks and gourds. It can help the young ones feel like part of the experience, provide a warm, unique decoration and take something off your plate. 
7. Encourage Reflection – Add a poem, quote or personal note to each place setting to express what you are most thankful for about that person. Or, leave a blank note and have everyone write something they are most thankful for and share it with the group, or leave it anonymously for someone to find.
Design A Holiday That Reflects Your Personal Style
During the holidays there are many small touches to make your table special. Your family and friends will appreciate your style and creativity – and our holiday table setting tips will remove some of the stress and give you #DesignInspiration. Try one or 2 of our table design tips to create your own unique Thanksgiving tablescape. None of these take too much time, which means you can prepare your meal and home to welcome guests, and enjoy the time with your friends and family. Isn't that what the holidays are all about? 
If you need help planning your next event, contact South Florida Wedding and Event Planner Anna Hess.