Toasting the New Year With A Champagne Bar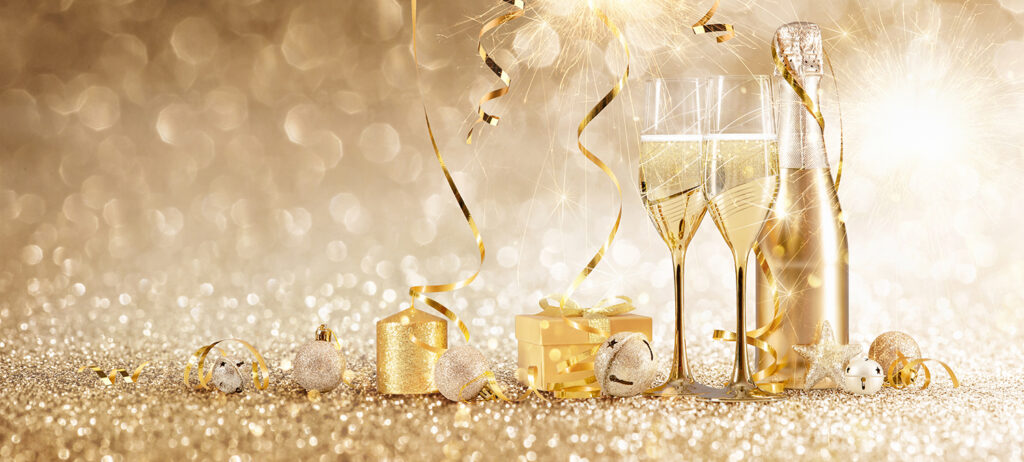 No cocktail proclaims, Let's Celebrate! more than champagne! There is a lot to celebrate in the New Year 2022, and whether you're hosting a glamorous New Year's Eve celebration, a festive New Year's morning brunch or a small gathering of friends to toast the New Year, a DIY champagne bar is a perfect addition to toast the new year – and relieves you of bartender duties! A champagne bar is easy to prep and set up and lets the hostess enjoy her own party!
Stock Your Bar
You can prepare your DIY champagne bar in advance, just be sure to add the champagne and ice at the last minute so they're icy cold for your guests. You can set your champagne bar up on a tabletop or bar cart, and use a decorative tray and holiday decor to make it festive. Place your champagne bar in a spot so more than 1 person can mix a drink at a time, so your guests can mingle while they mix!


1. Glassware
I'm partial to vintage champagne coupes. A curated and collected assortment of coupes makes a sophisticated presentation – and if one gets broken, just add to your collection!
#DYK: The classic champagne coupe is rumored to have been molded from the breast of Marie Antoinette?
Tall, slim and elegant champagne flutes are designed to keep the fizz in your bubbly
2. Champagne
Whether your preference is expensive French champagne or a more affordable Prosecco or sparkling wine, it's important to make sure your bubbly stays cold.
3. Napkins
Small, elegant cocktail napkins are a must to protect your furniture and your guests from an accidental spill.
4. Champagne Bucket
1 or more iced champagne buckets to keep your bubbly cold even after the cork is popped.
5. Accouterments
Alcohol


Gin, vodka, creme de cassis and other liquors – we love a splash of Elderflower liquor in a glass of champagne!

Jigger for measuring your pours and a cocktail shaker
Sugar cubes


We adore the flavored sugar cubes that are all that's needed to add a pop of color and flavor to a glass of bubbly!

Simple syrup


You can buy it, or make your own. Infuse it with flavors and colors that enhance your cocktail bar, such as lemongrass!

Juices such as orange, pomegranate and cranberry
Garnishes


Lemon twists, rosemary sprigs
Frozen cranberries, frozen berry skewers
Ice cubes with embedded garnishes or made from fruit juice or pulp
Ice

Festive stirrers and straws
Bar towels to clean up spills and hold slippery bottles
Classic Champagne Cocktail Recipes
Here are 5 of my favorite champagne cocktail recipes. You can create beautiful recipe cards to decorate your champagne bar and inspire your guests! Beautiful and festive served in your favorite vintage coupe or flute!
French 75
Champagne, gin, lemon juice and simple syrup:
1 ounce gin or cognac
1 ounce simple syrup
1/2 ounce lemon juice
3 ounces of bubbly
Garnish with lemon zest
Add the gin, lemon juice and simple syrup to a shaker with ice and shake until well-chilled, strain into a glass, top with the bubbly, garnish with a lemon twist.
Kir Royale
Champagne and creme de cassis:
1/2 ounce creme de cassis
bubbly to top
Garnish with lemon twist
Add cassis to a flute, top with bubbly and garnish.
Champagne Cocktail
Champagne, bitters and sugar cube:
1 sugar cube
2 to 4 dashes Angostura bitters
bubbly to top
Garnish: lemon twist
Add a dash of bitters to a sugar cube, drop in a glass, add bubbly and garnish
Poinsettia
Champagne, cranberry juice and simple syrup:
1 ounce simple syrup
1/2 ounce cranberry juice
3 ounces of bubbly
Garnish with lemon zest
Add cranberry and simple syrup to a shaker with ice and shake until well-chilled, strain into a glass, top with the bubbly, garnish with lemon zest.
Cheers to the New Year!
Wishing each and every one of you a safe, happy and FABULOUS New Year 2022!