#NeverStopLearning
I love planning memorable, one-of-a-kind events for my clients. Experiencing their happiness gives me pride and satisfaction as I make their dreams come true. But another exciting part of my career as an event and wedding planner is recharging my creative juices with other professional event planners. Networking with other planners provides #designinspiration and new resources and ideas to continuously sharpen my skills and enhance the services I offer my clients. This year, I attended Wedding MBA online – but I have already bought my ticket to attend #WeddingMBA2021 in Las Vega in person!
2021 Wedding Trends and Predictions
In 2020, everything about weddings changed. Bridal couples had to make major decisions and changes, and sometimes with very little advanced notice. In 2021, many of the same safety protocols will remain in place, indefinitely. But with over 9 months of experience behind us, as a wedding planner, here is my forecast for 2021 wedding trends and South Florida destination wedding concepts.
Weddings En Plein Air
Outdoor weddings at home, on the beach or on a rooftop provide ambiance, fresh air and social distancing. Evening weddings under the stars enhanced by strings of twinkle lights and candelabras create a romantic stage for your ceremony. Rooftop weddings deliver fairytale city views and sparkling lights, while a romantic countryside setting offers nature's fragrances and landscapes.
Open air wedding events can be planned for any time of day, and any day of the week! Outdoor venues can range from chapel-like enclaves to inspirational countrysides to romantic seashores, glorious gardens or breathtaking vineyards – and even stunning ruins! Backyard wedding fantasies can come alive with picturesque decor and florals that match the couple's design style.
Luxury tents can be designed to compliment any wedding theme and decor. They add comfort to your celebration and provide protection to ensure your big day goes smoothly. Drones for 360 photography capture every moment of your celebration and portable charging stations ensure that all your electrical needs are met.
Enhanced Floral Arrangements
Flowers are always my favorite part of any celebration! Couple's wedding budgets have changed, and today they may have more funds to allocate to the wedding floral budget. 2021 is going to be beautiful!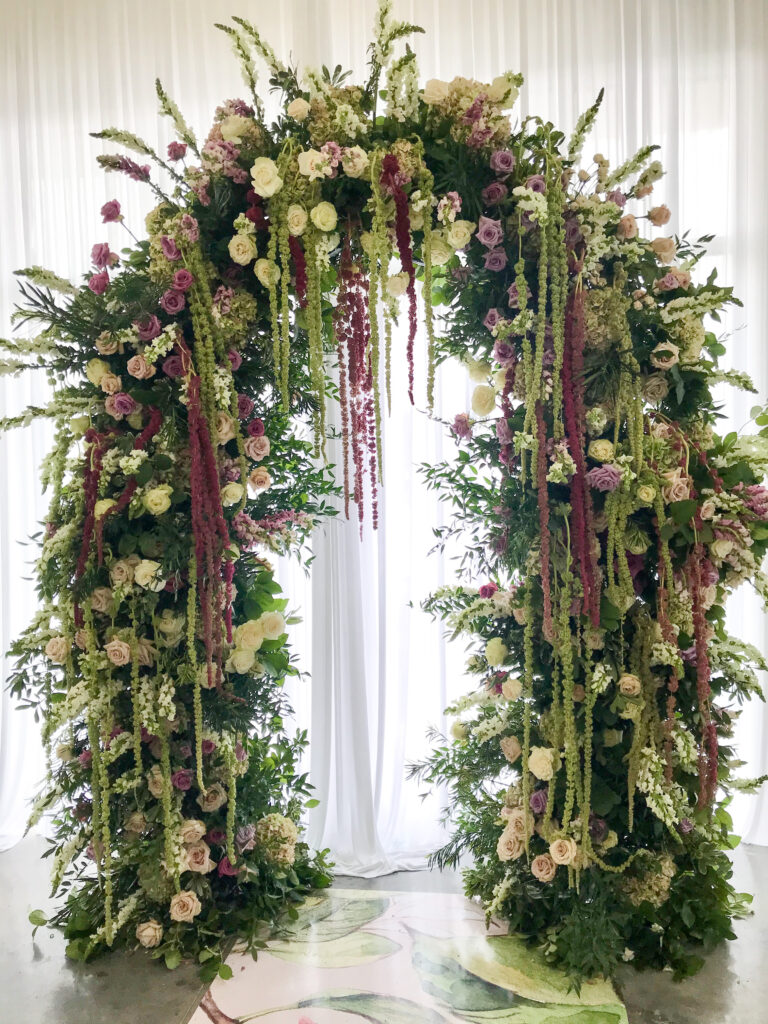 Statement Entryways
Bold, beautiful floral vestals, displays and canopies create magical moments to welcome the couple and their guests to your ceremony venue. A dusty color palette is one of my personal floral favorites for 2021!
Floral Nest
The bridal couple can be cocooned in a nest of flowers that provide a stunning backdrop for the ceremony and wedding photos.
Sprayed Flowers
Nature's colors are stunning – but do not always match the wedding couple's color palette. Sprayed flowers provide rich, bold, playful or unexpected colors that convey the couple's unique style and personality.
Outdoor Tablescaping
An outdoor wedding venue can be as glamorous or as in an indoor setting – and deliver a breath of fresh air year-round while entertaining! Tablescapes designed with lots of natural and dusty colors and florals, romantic lighting, beautiful place settings and set the mood for your special day.
Back to Nature
Mother Nature created venues that are a wedding planner's dream – but are often too small to host a large event. Whether your bridal event is a brunch, a cocktail party or a sit-down dinner, nothing is more spectacular than nature's splendor.
Lush Cocktails and Plated Menus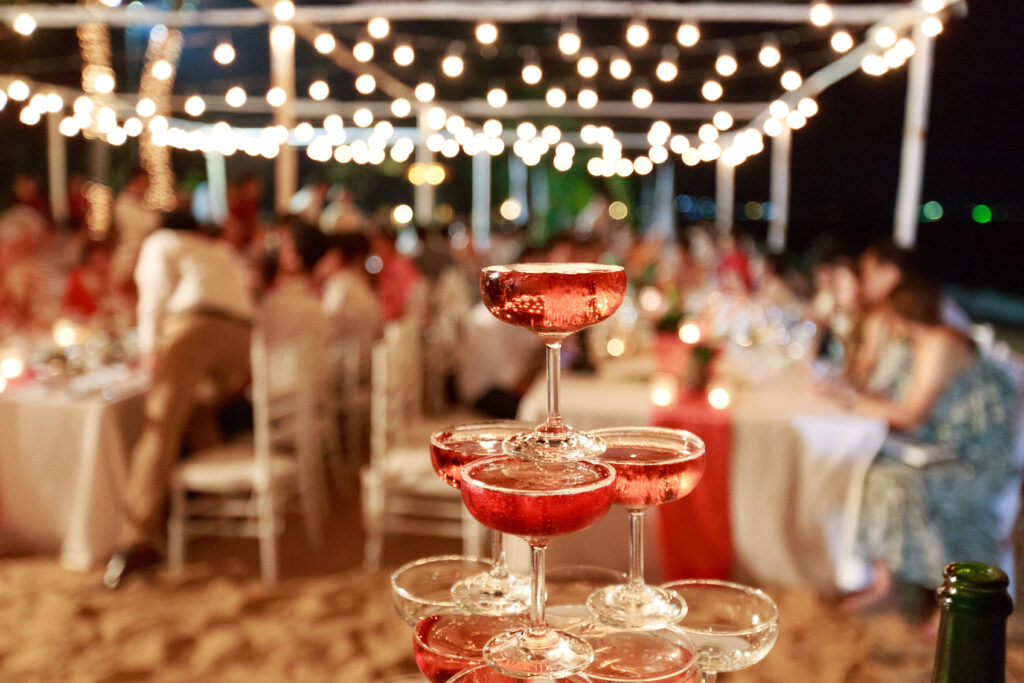 Couples are creating lush, custom cocktails to celebrate their 2021 wedding in style! Whether you serve one signature cocktail or provide a menu to choose from – or even a selection of pre-made cocktails – your beverage menu sets the tone for your reception.
Plated menus with wine pairings and assigned seating are replacing buffet stations. From single-serve hors d'oeuvres to individual mini-wedding cakes – presentation is everything! High-end plating and extravagant table decor provide a luxurious setting for your menu.
Wedding cakes decorated with classic white on white, full of textures and detailed sugar work, and cake and wine pairings provide an elegant final touch to your wedding menu.
Sustainability is important to many couples who want their wedding ceremony to reflect their beliefs and lifestyle. Edible spoons, vintage table linens and create stunningly sustainable events that are also good for the environment.
Mini Ceremonies
Smaller, more exclusive micro-wedding ceremonies are replacing large extravaganzas. Intimate events with 15-20 of your closest and dearest friends and family allow you to indulge your most extravagant wedding fantasies on a smaller scale.
The magic of technology helps you share your special moments with your extended family and friends in real time, or after the event.
Wedding Attire
Traditional wedding attire is waning for the bride and groom, who are stepping up their wedding style! Couples with a high sense of fashion are choosing sliver gowns, leather accents on suits, lush velvet fabrics and COLOR in 2021!
Creativity: The Sky's The Limit!
In 2021 wedding couples aren't putting their dreams on hold! Instead, they're reinventing their wedding dreams and fantasies to match the times we live in. Rather than bemoaning what could have been, today's bride and groom are embracing originality and creativity to design a wedding they couldn't have even dreamed of one year ago!